OUR REPUTATION IS OUR SUCCESS
So many reasons for you to use Prestige Carpet Care
Providing Industry leading carpet cleaning in St Albans for over a decade. By using only the best tried and tested techniques, products and equipment Prestige guarantee outstanding results every time
No dust mites for up to 14 months with Prestige Carpet Care. Dust mites can be a big problem for asthma and allergy sufferers. In fact they have been cited as one of the major triggers of asthmatic and allergic reactions
We rejuvenate upholstered furniture leaving it fresh, clean and healthy. Upholstered furniture uses a variety of materials and methods of manufacture. One cleaning process will not work on all upholstered furniture.
SEE ALL SERVICES
"We recently used Prestige to clean our training room carpet which gets a lot of wear and tear and tea and coffee spillages. The service we received was very fast and professional. Chris explained everything clearly and got on with the job quickly and efficiently. All the stains are gone and the carpet looks like new and it only took a few hours. We're very happy with both the service and results and would not hesitate to use Prestige again or to recommend them to others."

Melissa Fairhurst

Certain Change, Chesham
"We had all our office carpets cleaned and the result was excellent. The service was prompt, efficient, helpful and polite. We will definitely use Prestige Carpet Care again. We would be happy to recommend them."

ELENA LAZZARA

Royal Entomological Society, St Albans
"I wasn't sure if the carpets at a property were salvageable; they were over 10 years old and covered in stains. Chris visited on short notice and was true to his word – in a very short time they were all like new. I would recommend his service to any property owner or manager."

STUART GRAY BA (HONS)

Strutt & Parker
Before
One of our domestic clients had a rather unfortunate incident with a candle.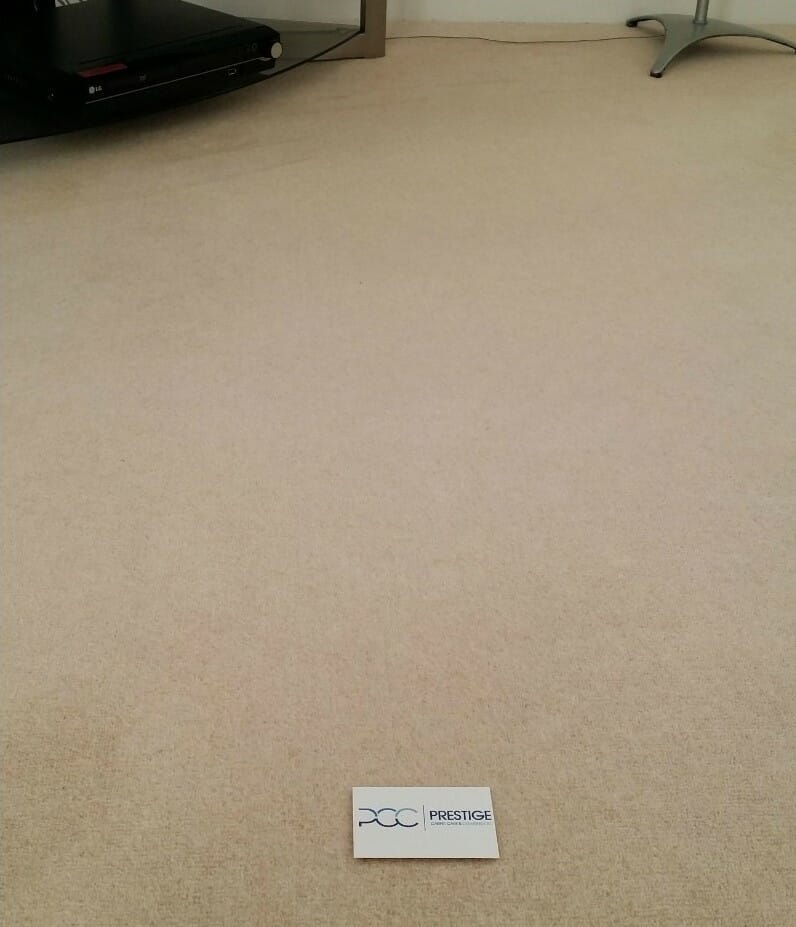 After
Luckily we came to the rescue and restored their carpet to it's former glory.
By using only the best, tried and tested equipment, chemicals and techniques Prestige Carpet Care and Cleaning achieve outstanding results every time. We continually research and test the latest developments in cleaning technology to bring each client the best possible specialist cleaning service.
What we can do for you
Based in St. Albans we provide domestic carpet cleaning, commercial carpet cleaning and upholstery cleaning in Hertfordshire, Bedfordshire, Buckinghamshire, Essex, and London.
Regularly cleaning carpets and upholstered furniture removes grit and soils helping to preserve the vibrancy and texture of fabrics. A professional annual clean will keep fabric fresh and hygienic and guarantees the safe removal of harmful mites and bacteria which are proven to be common contributors to allergies. Fabric life is also maintained meaning you can prevent expensive replacement costs at a later date.
Prestige Carpet Care and Cleaning use the best tried and tested techniques, chemicals and equipment to ensure outstanding results every time. Our technicians are uniformed, fully trained and certified and can advise the best process for your needs.